See how glorious a love the Father has given us, that we should be called God's children—and so we are! The reason the world does not know us is that it did not know Him.
1 John 3:1 (TLV)
The Jewish month of Av is known as a time of darkness, sorrow, and destruction. However, in the middle of this month on the 15th day of Av (August 2nd this year), the Jewish people celebrate Tu B'Av — a day of love! What a beautiful picture of God's love meeting us right amid sadness, loss, and heartache. God's love restores, rebuilds, and strengthens.

Originating from the 2nd century, Tu B'Av was a day for unmarried women in Israel to dress in white and go out to dance in the vineyards as they waited for the men to choose their wives. And only in 1948, shortly after Israel became a Jewish nation, Tu B'Av became a popular Jewish holiday celebrating love and romance.

Some special things to do on this Jewish holiday are to go on a date, propose, renew your vows, or celebrate your loved ones with a gift. One fun date idea that you could do with your loved one on this day is to make a romantic dinner! And we have just the recipe for you to use for a nice appetizer to accompany your dish of choice. The Grape Carpaccio is something light and fresh and yet will add a romantic and elegant taste to your date.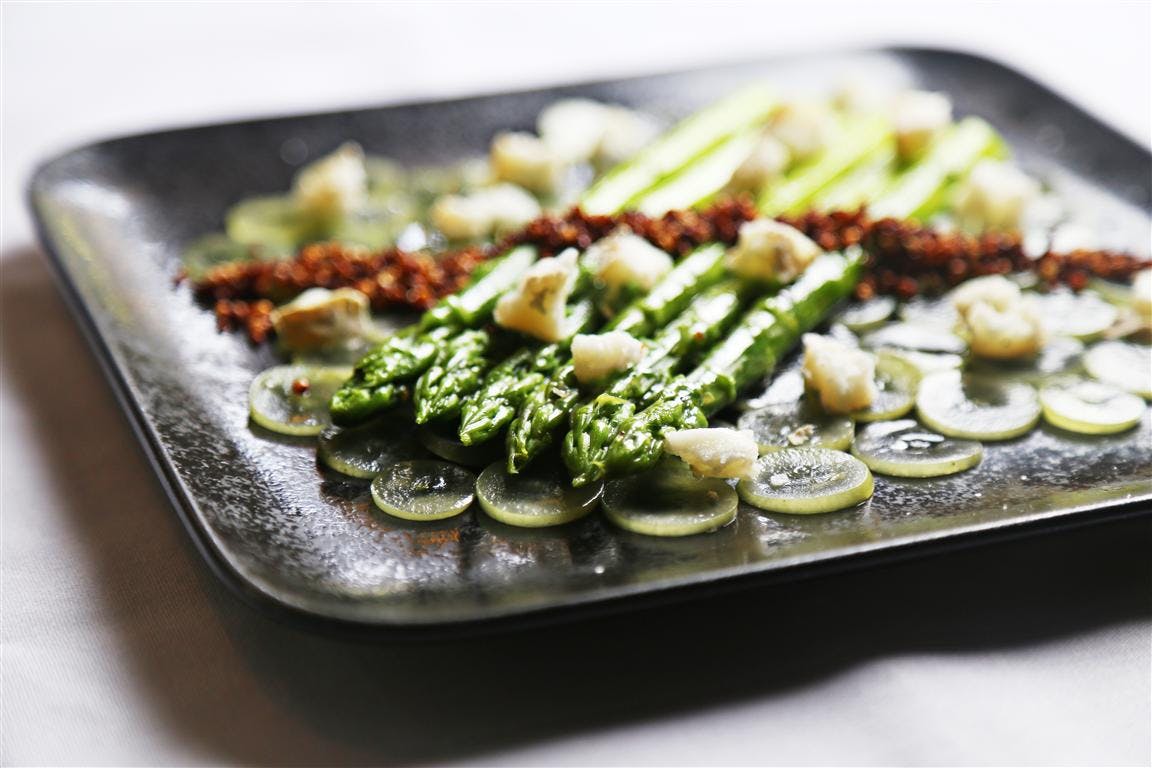 Ingredients: (For 2 servings)
300g large green grapes, washed
8 large asparagus stems
100g quinoa (preferably red, or mixture)
100g Sainte-Maure cheese (or any other goat cheese)
200 ml balsamic vinegar
Oil for frying
Salt and black pepper
Olive oil to drizzle on top
Preparation:
Slice the grapes into thin slices, and arrange them on two plates side by side like a carpaccio.
Cut each asparagus stem about 4 cm from the bottom. Discard the inedible part. Gently peel the asparagus up to the bottom edge of the head.
Boil a pot of water with a little salt, blanch the asparagus for a minute and immediately transfer to ice water to cool.
Cook the quinoa in a pot with 200 ml of water. Once it starts boiling, reduce the heat to low and cook for about 15 minutes until the quinoa is ready. Drain the liquid and place quinoa on a tray lined with parchment paper. Dry it in the oven at 85°C with the door slightly open for about two hours.
Heat a pot with frying oil to high heat (between 200°-210°C). Fry the quinoa for a few seconds until it puffs and the bubbles stop. Remove with a strainer and transfer to a tray lined with paper towels. Sprinkle a little salt on top.
In a small pot, bring the balsamic vinegar to a boil, reduce to half the amount, refrigerate, and store in a container.
To assemble the dish, place 4 pieces of asparagus on top of the grape slices on each plate. Sprinkle shreds of cheese over it and the crispy quinoa. Decorate with drizzles of the reduced balsamic and olive oil.
We hope you and your loved one enjoy this simple, yet elegant dish, as you take time this Tu B'Av to let each other know just how much you love one another! And most importantly, take time to reflect on God's great love for each of you, especially if you are in the midst of suffering or reflecting on the sorrow that has occurred during this month of Av.
Subscribe Now and Get Our Free Recipe E-Book!
Now you can experience the authentic flavors of Israel and the surrounding region with Batya Segal's personal favorite recipes. A long-time lover of fresh, delicious, and easy-to-execute meals, Batya's recipes will bring the aromas of Israel into your kitchen for the whole family to enjoy. Yours free as a thank you for supoorting our life changing work in Israel.
Recent Related Stories
Read our latest related stories and updates.