We are excited to share this great report of what God has been doing in these last three months here in Israel through your generosity and support of the work of VFI. From donating shelters to helping Holocaust Survivors, God has been impacting this nation greatly and we feel honoured to be a part of what He is doing! We have had a lot of work to do these last months, and God was faithful to send us extra helpers and volunteers to complete the packaging and distribution of the donations. We are also incredibly grateful for each of you who faithfully gave to VFI so that we could have the funds to provide specific needs for the people of Israel.
Vision for Israel has taken swift action in the recent rocket attack, during Operation Shield and Arrow, by providing an additional 38 mobile bomb shelters to the southern region of Israel under rocket fire and sirens sounding. Since the beginning of the project, we have successfully installed 155 shelters.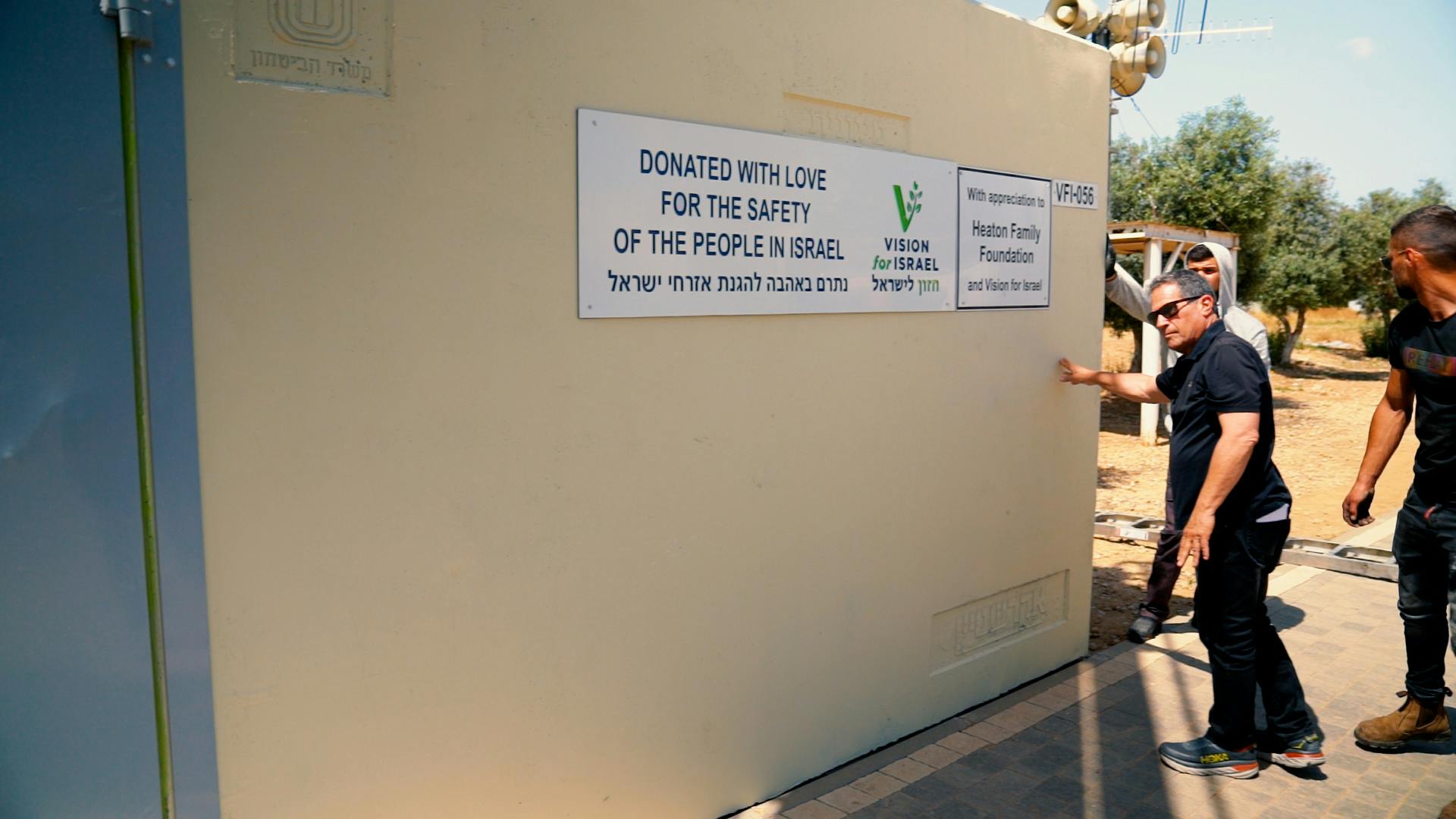 Supporting Holocaust Survivors with Social Events
At Vision for Israel, we are committed to showing love and care to precious Holocaust survivors and refugees. With your help, we can provide warm blankets, food baskets, gift cards, and home visits to positively affect their lives. We also host joyful events to give them back their sense of belonging and enjoyment of life.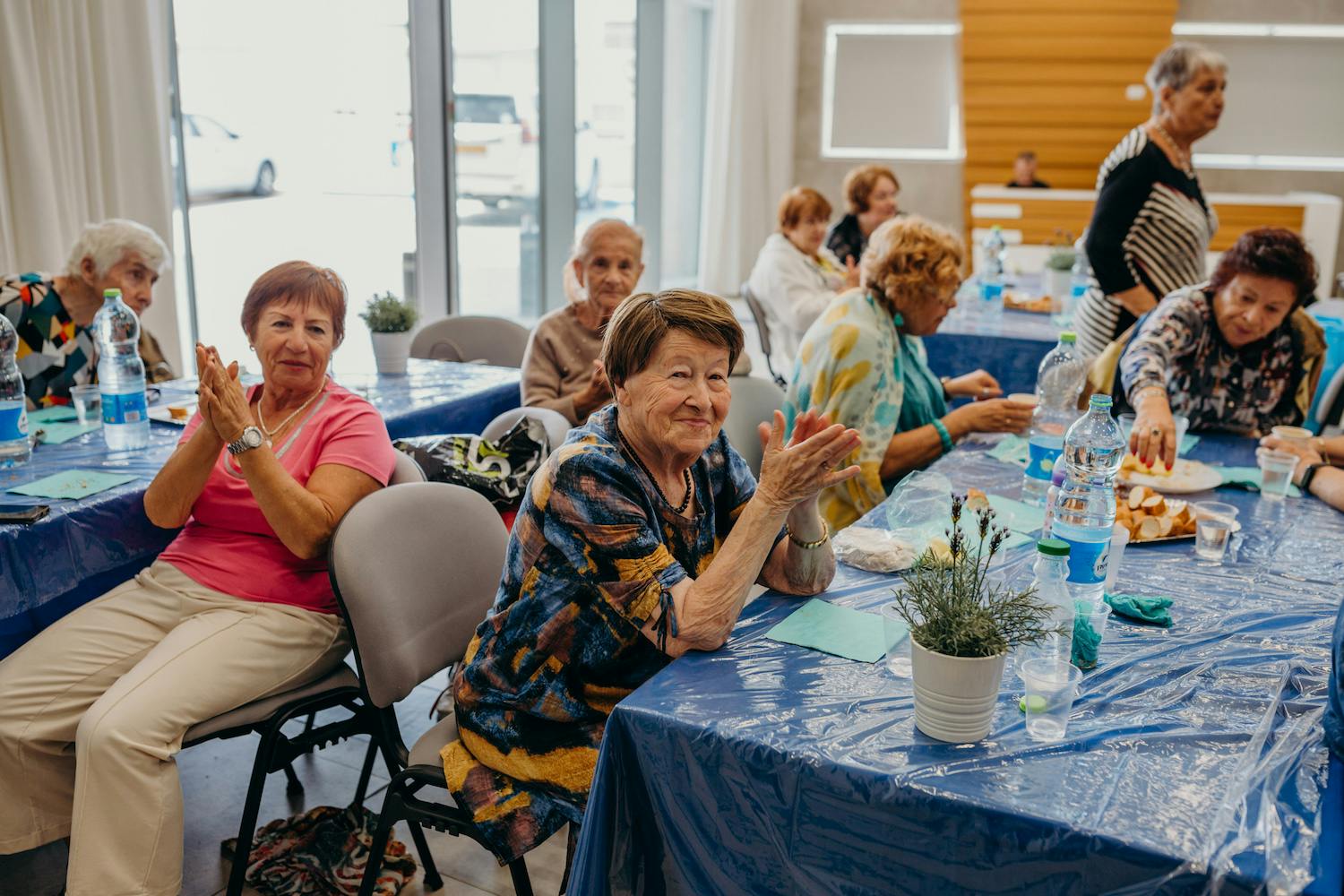 Soldiers Volunteer at the Millennium Centre
Recently, we were blessed with kind offers from a thoughtful IDF officer who offered to send soldiers to volunteer at the Millennium Centre.

We were moved by their selflessness to help us sort clothing and prepare care packages filled with hygiene products for both Holocaust survivors and new immigrants. It was truly inspiring to witness these young individuals, who come from challenging economic situations, devote their time and effort to assisting others.

This event was particularly special because it took place only a few days after Holocaust Remembrance Day and close to Memorial and Independence Day. We are grateful for their kind hearts and dedication to making a difference in the lives of others.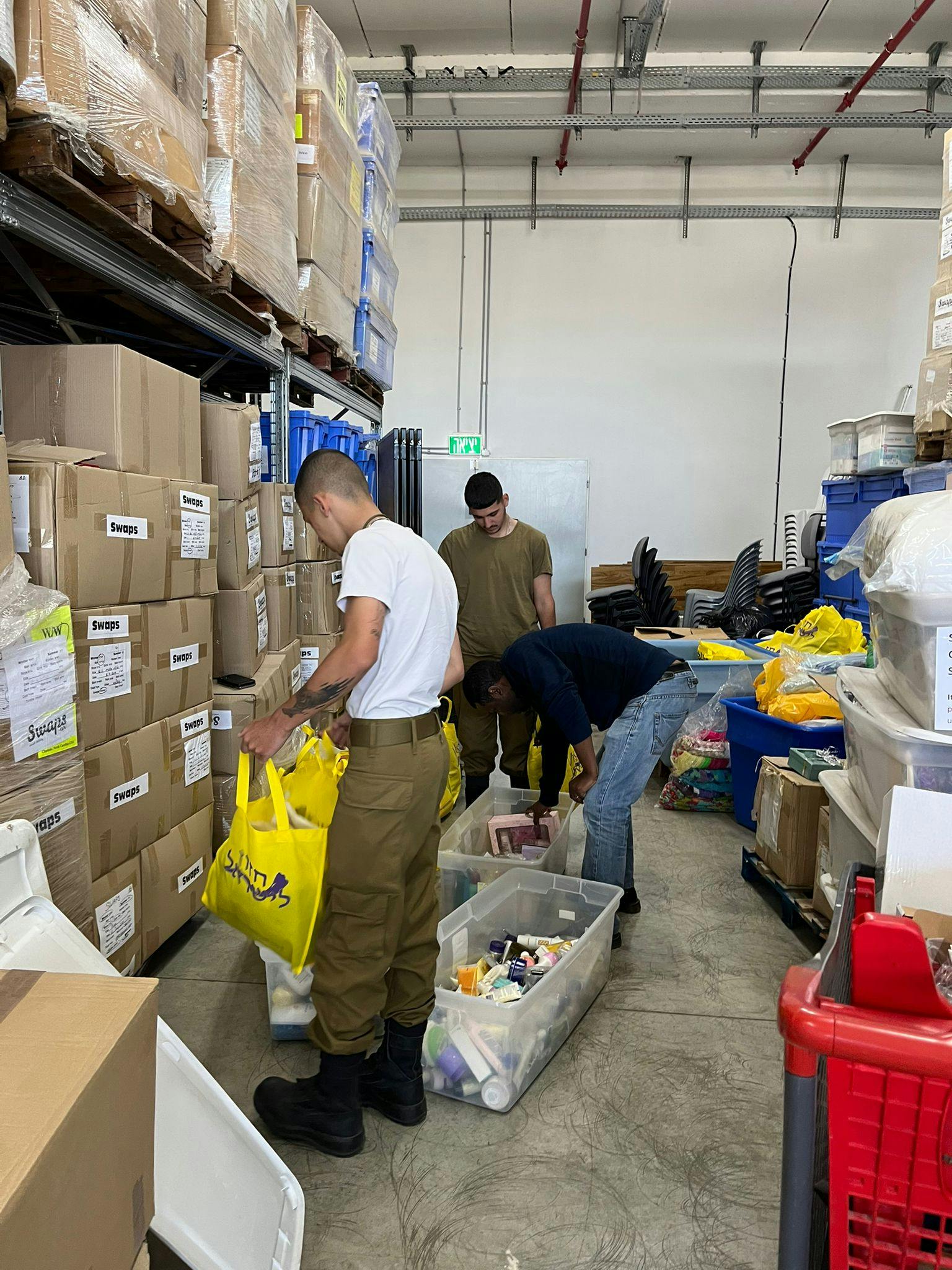 Clothes and Gift Packages For Holocaust Survivors
To reach as many needy people as possible, we create relationships and collaborations with various organizations. We recently made contact with an association working for the welfare of Holocaust survivors in Jerusalem, whose chairman and founder is himself a Holocaust survivor from the Soviet Union. The chairman noticed that almost no assistance is given to Holocaust survivors from the Soviet Union who arrived in Israel at a somewhat late age and do not speak the language. He felt the need to make their voice heard, and although he doesn't speak the language either, he founded the association in 2019 together with his daughter.

Vision for Israel joined the task and our team held a special event, bazaar-style for dozens of Holocaust survivors living in Jerusalem. We brought clothing for them to choose from and each survivor also received a gift package, including a set of bedding, a body towel, and a personal blanket. The elderly were so happy that they blessed VFI and thanked us.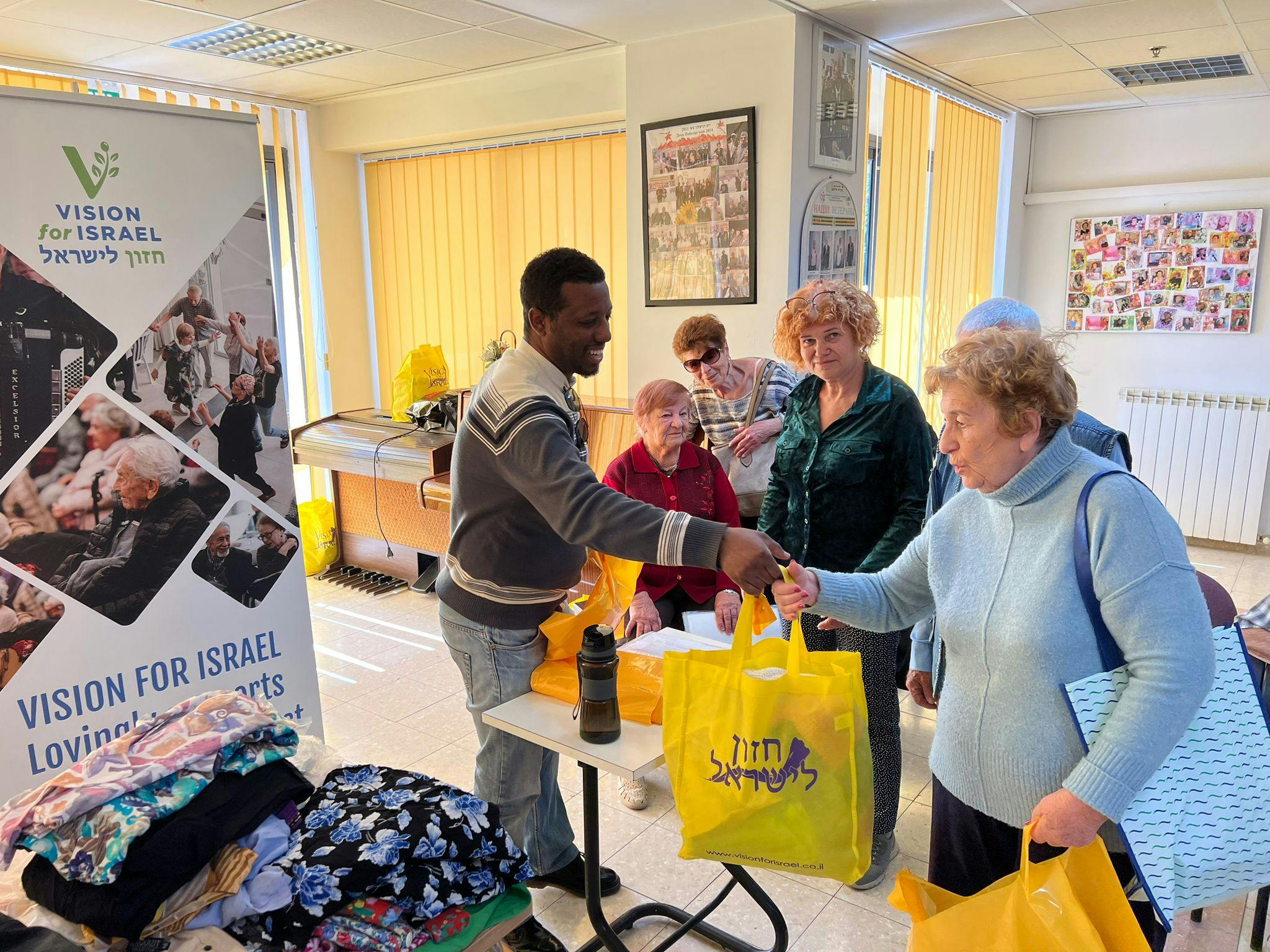 Expanding the Circle of Giving
We were happy and excited to extend our assistance to the needy for the first time in the city of Gedera. We brought food baskets to dozens of families in need, who thanked us from the bottom of their hearts for the generous donations. They were also interested in Vision for Israel and asked to hear about our activities. Some of them also asked for our phone number, so they could pass it on to other families who could use our help.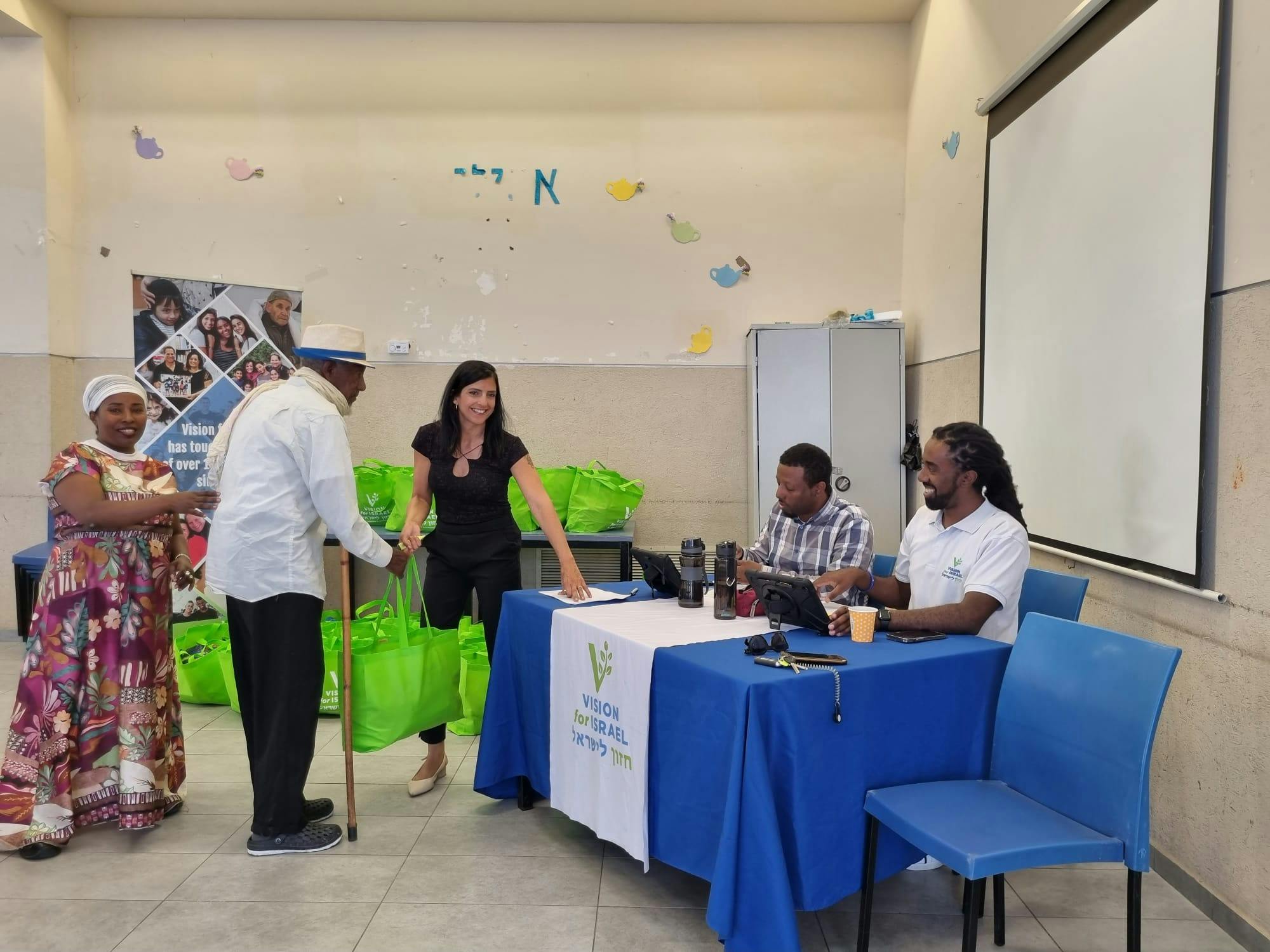 More Tour Groups at the Millennium Centre
Vision for Israel has made genuine friends around the globe since its inception. Recently, VFI received a visit from friends in China who came from afar. This visit was an uplifting experience, especially because our small country is facing numerous challenges at this time. It was heartening to hear them express their support for the State of Israel. We extend our gratitude to the organizers who thought of us and helped us assist and impact numerous families.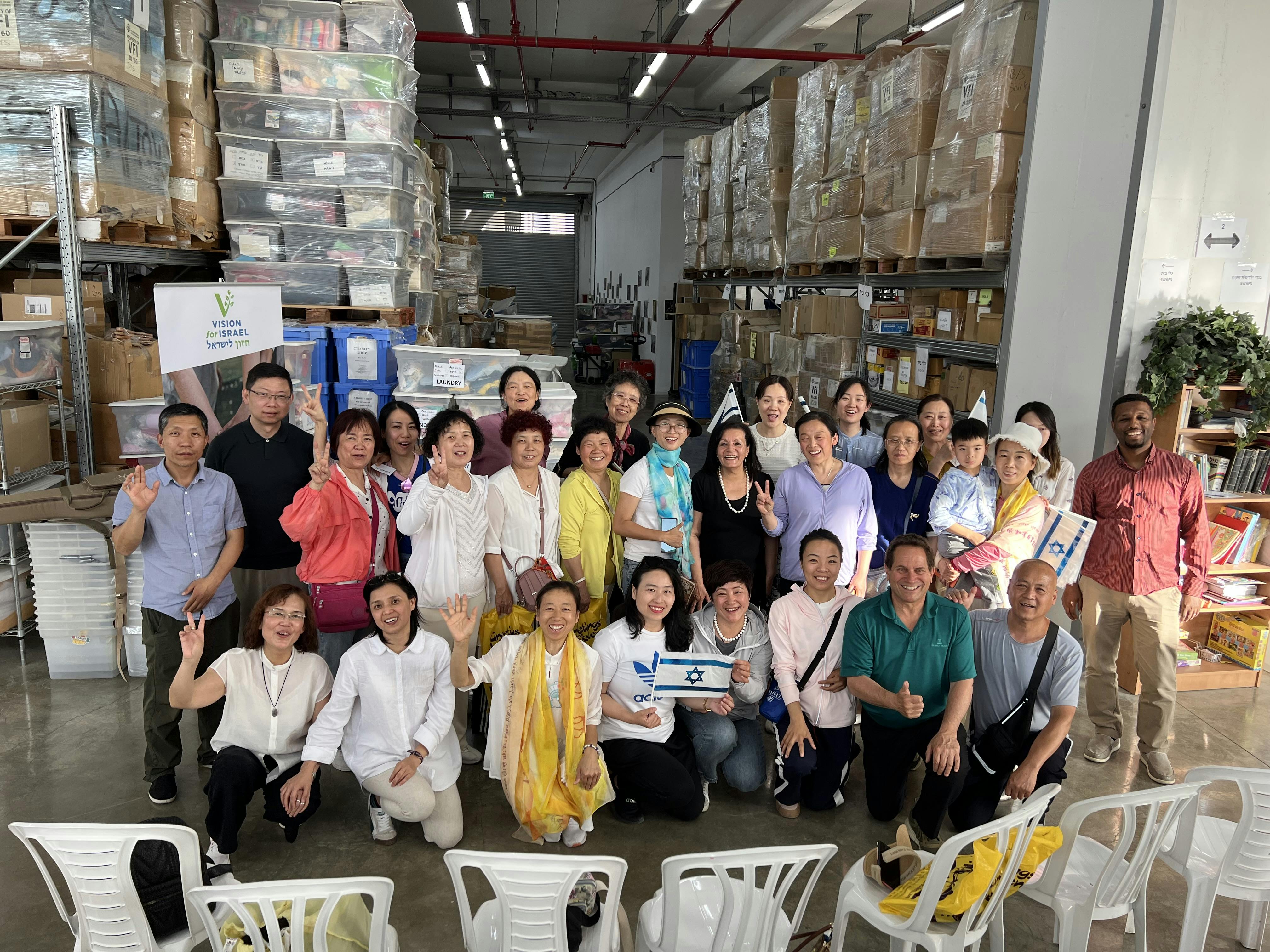 Providing Kitchen Appliances for a Special Education School
Vision for Israel has been supporting a special needs school in Jerusalem for many years. The school has about 80 students studying in grades 1-6. The school operates a therapeutic kitchen for students to learn how to cook, bake and set the table. The kitchen is equipped with tools and appliances.

Recently, the glass of their old oven was accidentally broken and the oven itself was no longer working well. Therefore, they urgently needed an oven to continue their learning program. In addition, the school needed a microwave in the kitchen. VFI was delighted to purchase the needed oven and microwave to support the students in their learning.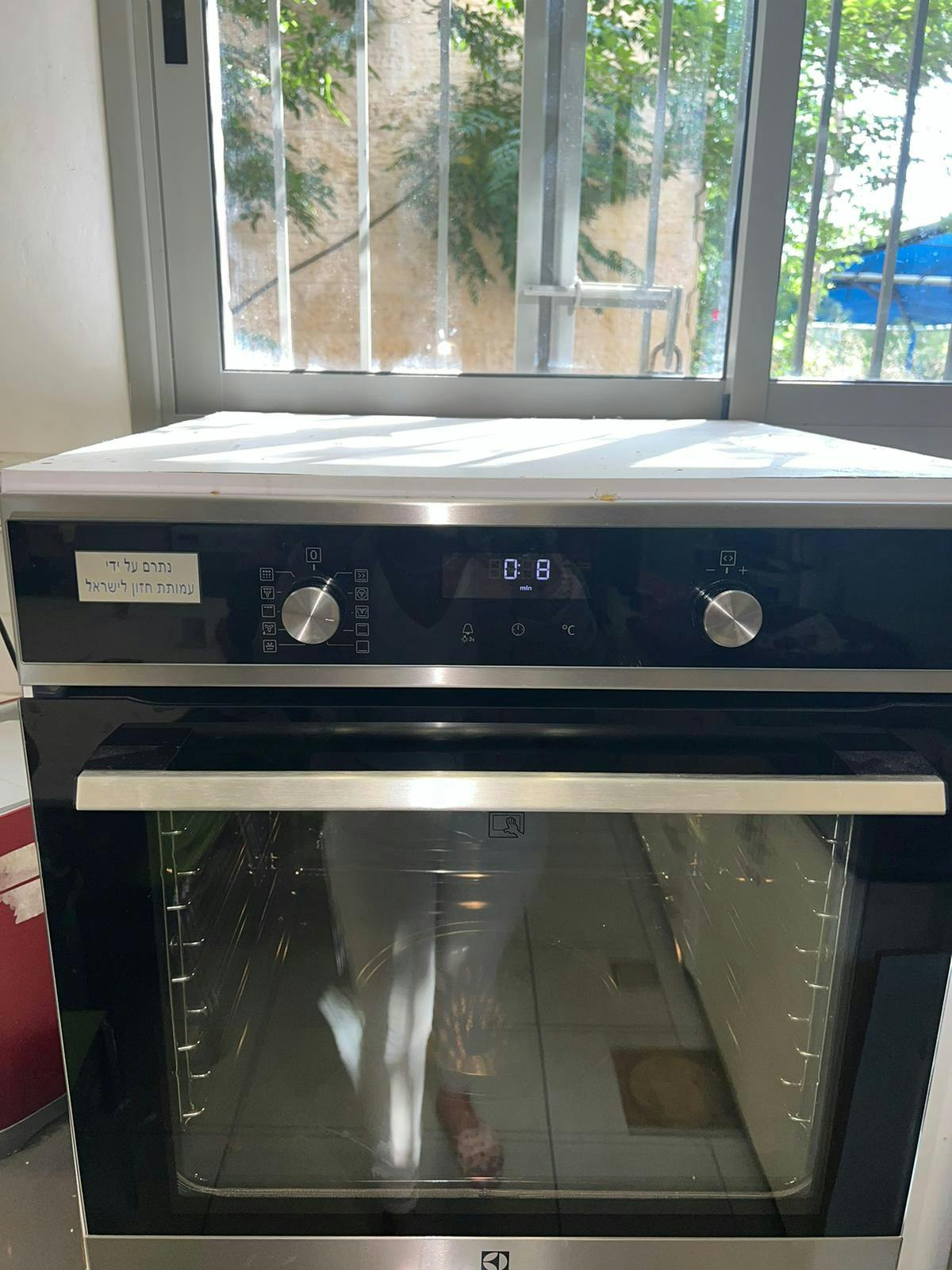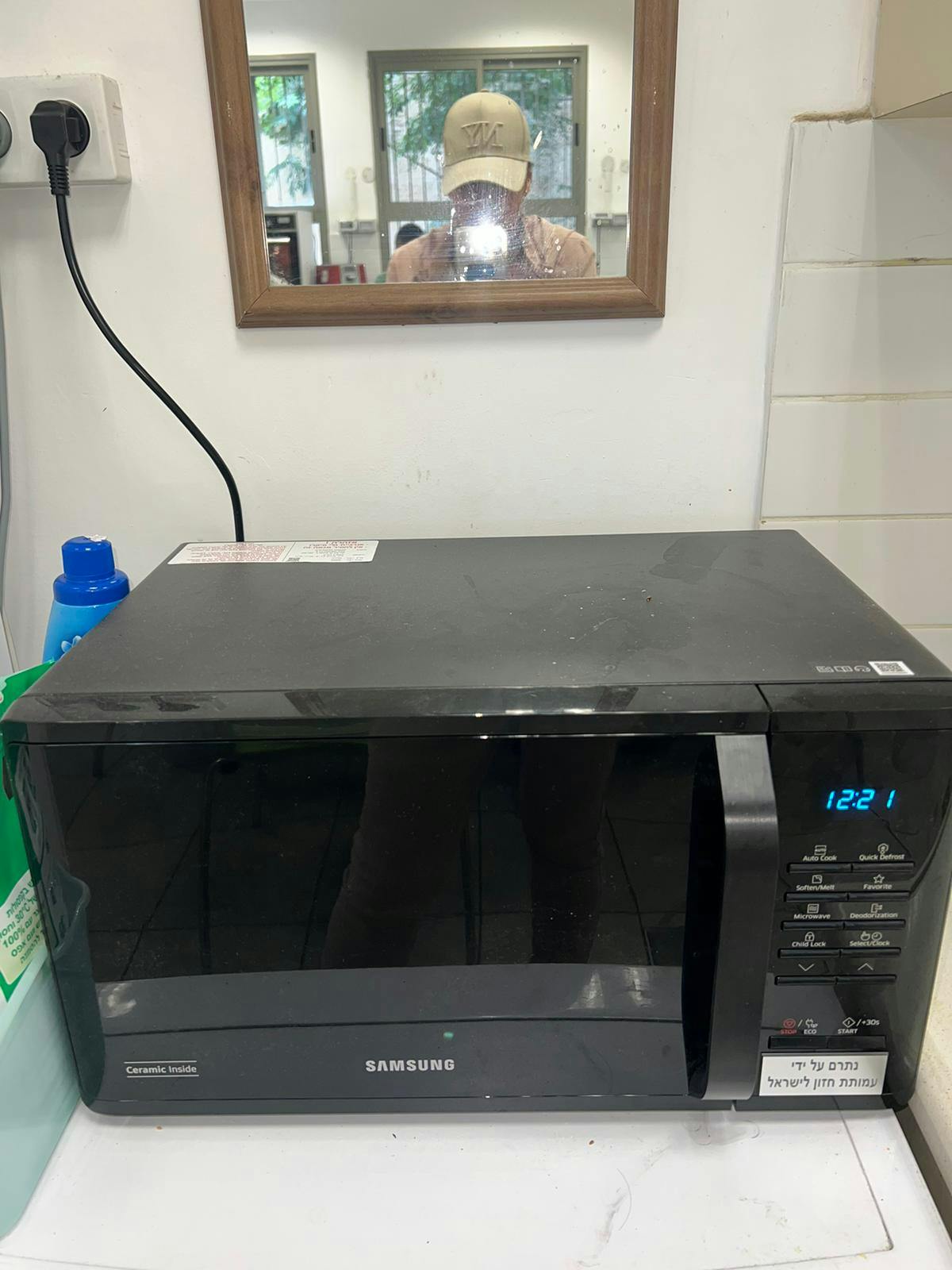 First Time — Donating Fresh Produce
In a first for VFI, we've distributed baskets of fresh produce alongside hygiene products and dry food items to 60 families in need in Gedera. Our dedicated staff, Assaf and Yoni, aided by the welfare staff, ensured each family received lettuce, eggplants, bell peppers, and more. The families were thrilled with our initiative, grateful for the generosity, and eager to learn more about VFI. Their gratitude truly warmed our hearts and strengthened our commitment to providing healthy vegetable baskets alongside our regular support.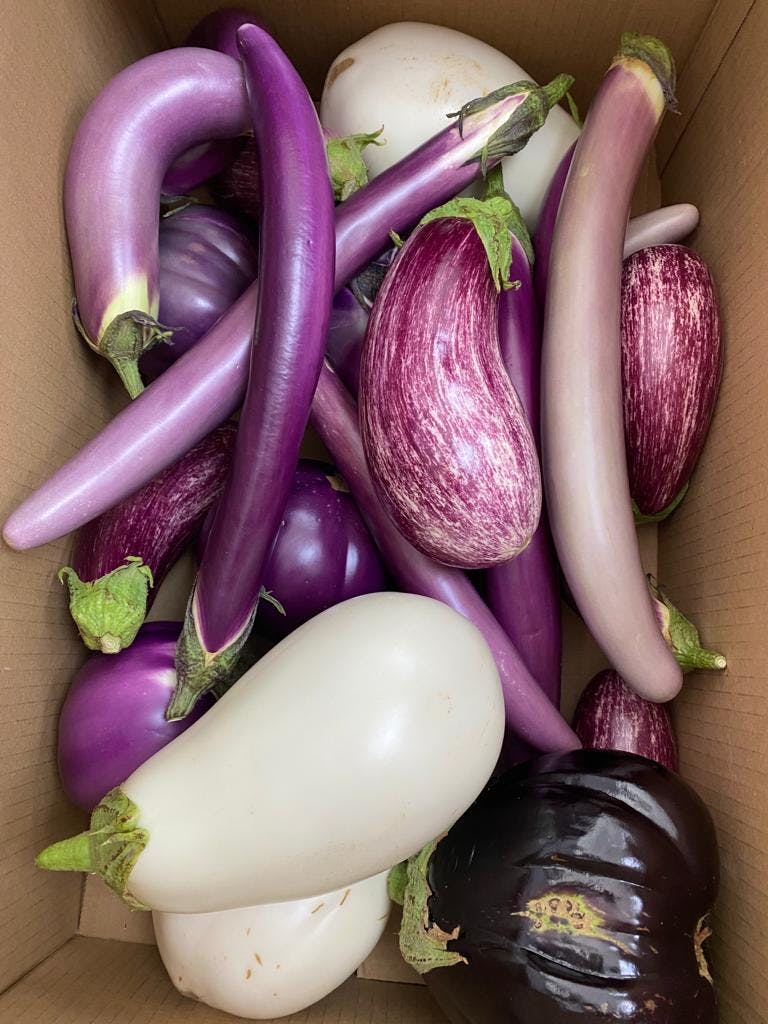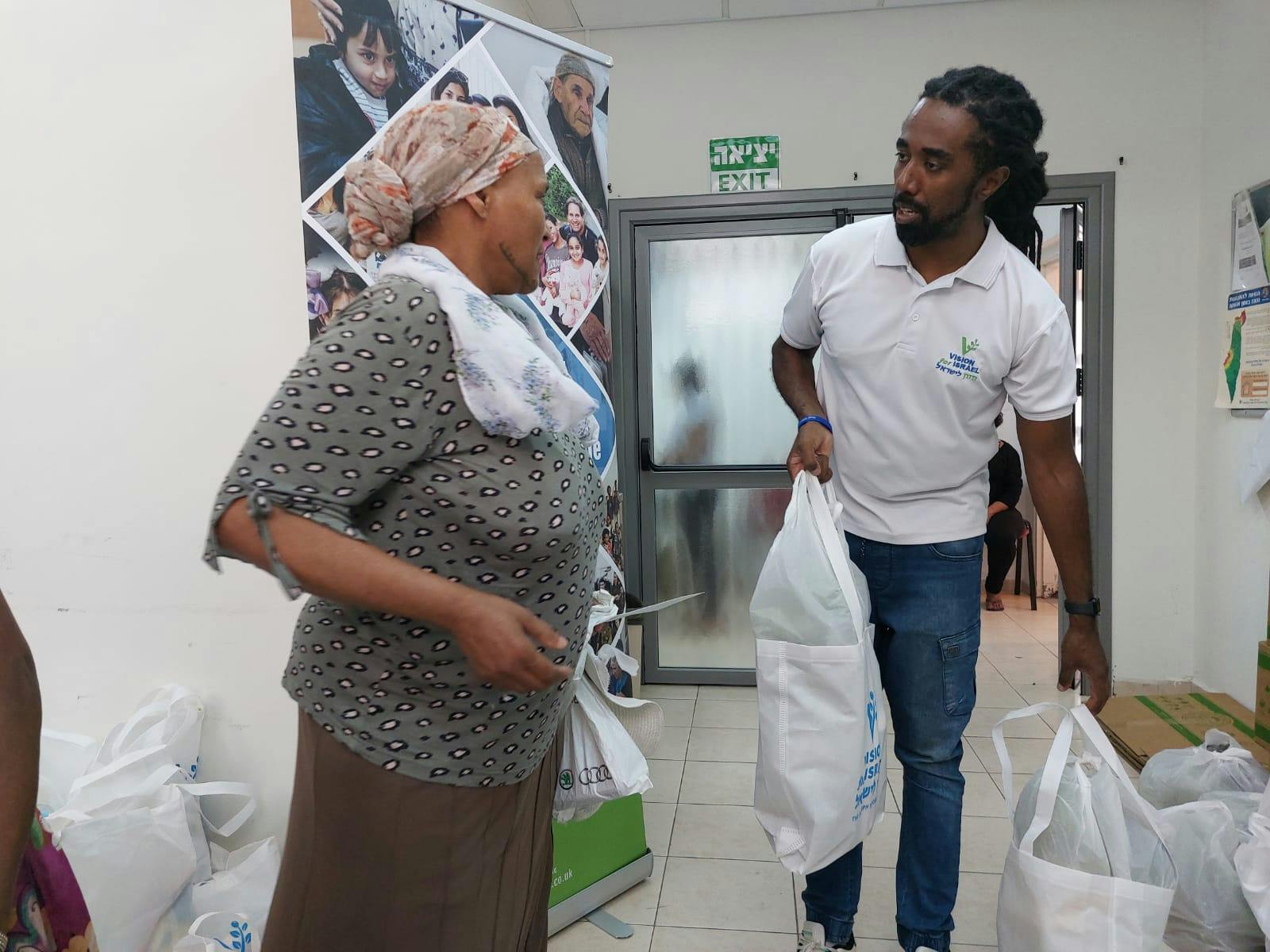 Your faithfulness endures from generation to generation. You established the earth, and it stands.
Psalm 119:90
We give God all the glory and honor for how He has faithfully met the needs of His people and our nation!
We are so grateful to our partners, donors, and friends who make all of the above possible. There are truly no words to express the great impact you can have on these communities and families. If you have not already, you can take part in all these exciting life-changing experiences by pledging monthly donations to Vision for Israel. Our work is never-ending, and every donation helps us to spread God's love and word across Israel.