As the nation of Israel prepares for Sukkot, you will see many "Succot" or "booths" set up at restaurants, outside of homes on the street, and even on balconies of apartments. The Jewish people eat all of their meals in the succah during this seven-day holiday. Therefore, when thinking about what food to eat they have to keep in mind that it needs to be easily portable to bring outside to the succah.

Because this holiday is about remembering God's faithfulness to the Jewish people during the 40 years in the wilderness and about the gathering of the harvest, Jews eat autumn foods that represent God's abundant provision of the harvest they now get to enjoy here in the promised land.

Now, you may be wondering, "What foods do Jews eat during Sukkot in other parts of the world?" Here is a list of some of the traditional food items:
1. Stuffed vegetables: Peppers, cabbage, zucchini, squash, etc.
2. Challah - Braided Bread
3. Kreplach - Stuffed Dumplings
4. Soups - Squash, carrot, ginger, etc
5. Potato Knishes - Roll or pastry appetizer (fried, baked, or boiled)
6. Noodle Kugel - Made with egg noodles (sweet or savory)
7. Strudel - Layered pastry with a sweet filling
These are just a few of the delicious recipes Jewish families enjoy in their succah during the seven days of Succot.

Are you ready to try one of these recipes for your family this Succot? Head to the kitchen and let's start cooking this tasty stuffed peppers recipe.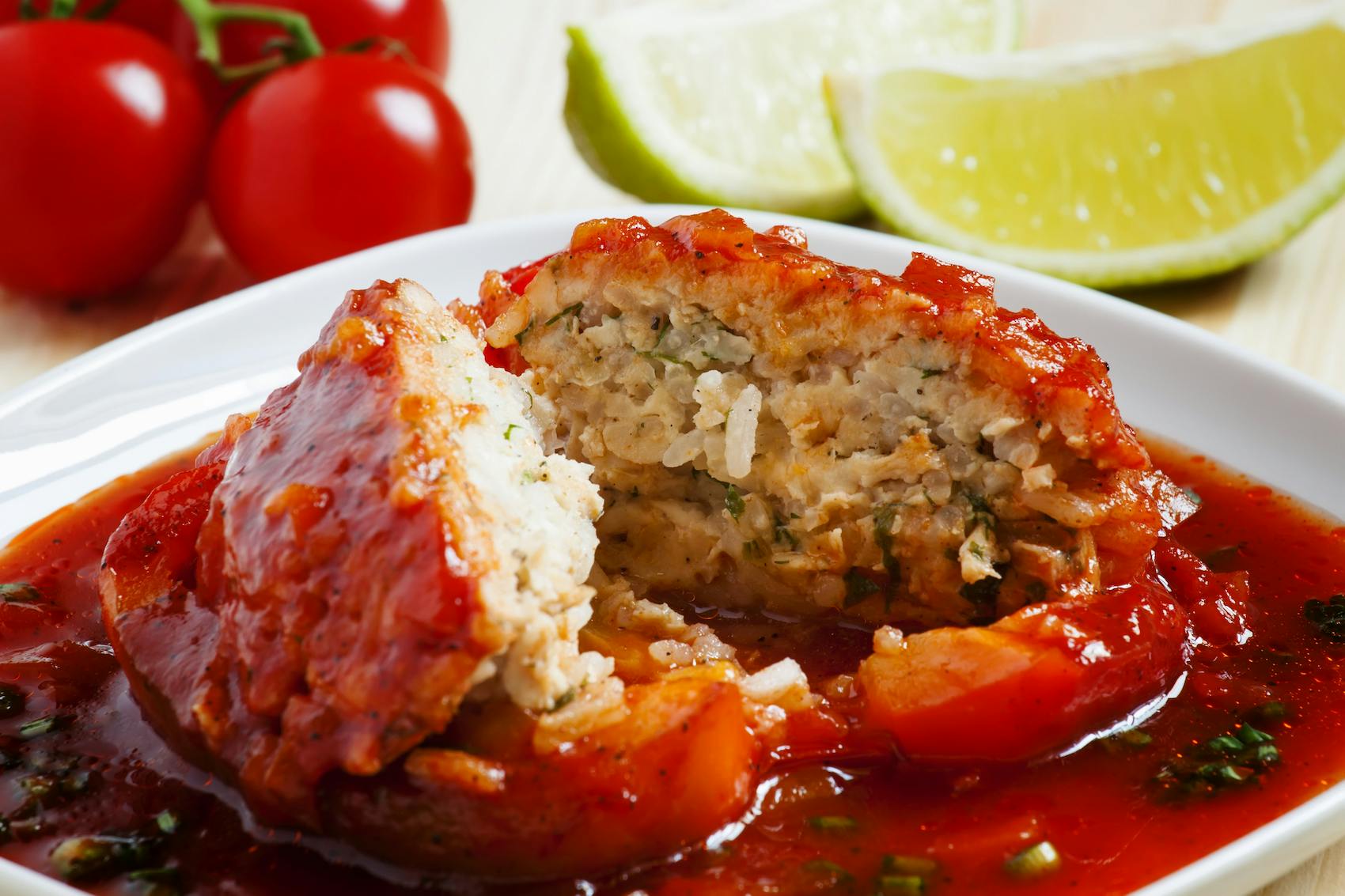 Ingredients:
6 bell peppers, assorted colors
Oil for frying
8 garlic cloves, chopped
2 onions, chopped
500 gr ground meat
1 bunch cilantro, chopped (reserve a handful for the sauce)
3/4 cup rice
1/2 Tbsp. salt
1/4 tsp. black pepper
1/4 tsp. Baharat (spice mixture)
Sauce:
6 tomatoes
1 onion, chopped
Oil for frying
Salt
Hot pepper, chopped
1/4 tsp. ground ginger
A handful of chopped cilantro
Directions:
Start with the filling: Fry the garlic and onion in a pot together with the meat and cilantro. (Don't forget to save some cilantro for the sauce.)
When the meat changes color, add the rice. Mix in salt, Baharat, and black pepper. Add half a cup of water and boil. Cover and cook for 6-7 minutes on low heat. Then remove from heat.
Cut the "top" from each pepper, remove the seeds, and set aside. Fill the peppers with the meat mixture about 3/4 of the way.
Prepare the sauce: Grind tomatoes in a food processor and strain. Fry the onion in an ovenproof pot or a deep saute pan. Add tomato juice, a cup of water, salt, hot pepper, and ginger. Boil and add a handful of cilantro.
Place the peppers in a pot and pour about two tablespoons of the sauce into each pepper. Place the "tops" on the peppers, cover the pot, and cook for about half an hour. Meanwhile, heat the oven to 200°C degrees.
Transfer the pot to the oven and bake on high heat for another half an hour.
We hope you have a special Succot as you not only feast on delicious foods but also rejoice in the goodness and faithfulness of our God!


Happy Succot to you and your family,

From our team at Vision For Israel
Subscribe Now and Get Our Free Recipe E-Book!
Now you can experience the authentic flavors of Israel and the surrounding region with Batya Segal's personal favorite recipes. A long-time lover of fresh, delicious, and easy-to-execute meals, Batya's recipes will bring the aromas of Israel into your kitchen for the whole family to enjoy. Yours free as a thank you for supoorting our life changing work in Israel.
Recent Related Stories
Read our latest related stories and updates.